_ ________ ___ ___ __ _ _ __ _ __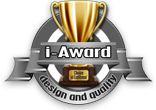 __________________________Awards of Excellence
The i-Awards Team identifies and honors the best design and quality content of websites and software worldwide. We value the importance of eye-catching design or quality content, whether is a website or software for PC or iPhone.
We recognize that creativity is a gift, and those who can unleash it effectively and ethically are worthy of praise. i-Awards exists to recognize and promote design visionaries and to uncover great talents in Graphic Design worldwide.
Do you have some great web site design, software for PC or iPhone app that you'd thing that deserves to be awarded? Very well. Send us some links to your work by using the form bellow, (it is an easy and simple email form). Thanks, and we look forward to seeing your work!
__________________________________________Thank you for your visit!
________________________ _____ ___ _ _______ __The i-Awards Team