_ ________ ___ ___ __ _ _ __ _ __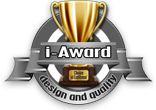 __________________________Awards of Excellence
The i-Awards Team identifies and honors the best design and quality content of websites and software worldwide. We value the importance of eye-catching design or quality content, whether is a website or software for PC or iPhone.
We recognize that creativity is a gift, and those who can unleash it effectively and ethically are worthy of praise. i-Awards exists to recognize and promote design visionaries and to uncover great talents in Graphic Design worldwide.
__________________________________________Thank you for your visit!
________________________ _____ ___ _ _______ __The i-Awards Team